Great Strides
Please visit www.cff.org for more information.
We greatly appreciate your interest in Great Strides. This annual walk was started in 1988 by the Cystic Fibrosis Foundation and has grown to be their largest and fastest growing fundraising event. For the last three years, our family has participated in Great Strides with GREAT results. We are so thankful for the generosity of others as we join together to help in the fight toward a cure.
It is never too early to get started in the effort to find a cure! There are many ways you can help us accomplish our goal.
Would you consider…
…registering you and your family to walk with us in honor of Allison and her CF journey?
….doing your own letter writing campaign to spread awareness and ask for donations for our team?
…just simply making a donation?
…asking your friends and family to join us on walk day?
Every little bit counts and adds up in a big way. We cannot do this without your support, your generosity and your dedication to this cause. We appreciate your efforts more than you will ever know!
THANK YOU FROM THE BOTTOM OF OUR HEARTS!
Email me with any questions. I would love to help you any way I can!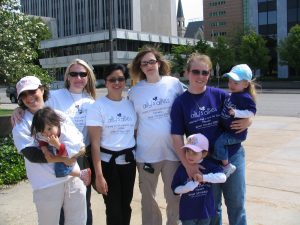 What Great Strides event would be complete without a "Firstbaby" surprise? See that lovely woman in the middle? "Bev" and her family DROVE up from Texas to join us on walk day… what a spectacular gift of friendship! Guess who knew about it and didn't say anything? The blond one next to her, Steph, who FLEW from Texas and the one next to her, Terry (holding Lili!), who FLEW with her entire family from New Hampshire! Dana, the pregnant one, and I were completely clueless! Thank you, ladies! You are my rocks!
Walk Details
Great Strides 2008 was held Saturday, May 17th in Downtown Grand Rapids. 
WHY WE DO IT: 
Because we need to raise awareness, raise money and continue the momentum to bring about change for those living with Cystic Fibrosis.
ALLY'S ALLIES has raised more than $80,000 toward a cure for CF!
_____________________
2007 TOTAL:
$11,607
2006 TOTAL:
$15,000
2005 TOTAL:
$8,142
In the last three years,ALLY'S ALLIES have rasied over $34,000toward a cure for Cystic Fibrosis! Way to go, Team!
Be a hero. Designate yourself as an organ donor.